My goal is read a variety of kid and adult books this summer...here is what I'm managed so far. Check back as I read more and continue to update....
Al Capone Does My Shirts
By: Gennifer Choldenko
-I've had this book in my class for a couple years now. I've always suggested it to my boys as a book they might enjoy (based off of reading the back). I recently saw on a blog that one of the characters was autistic so I put it on my list of books to read. The main male character has a sister who while not diagnosed would be considered autistic now. I really enjoyed it! I also just found out that there is a sequel -
Al Capone Shines My Shoes
. So that will be on my list to read later this summer.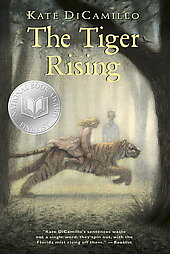 The Tiger Rising
By: Kate DiCamillo
-While I have several of DiCamillo's books in my classroom I haven't read any of them. Two of my students read
Because of Winn Dixie
this year and really enjoyed it. I decided to read a couple of her books this summer.
The Tiger Rising
was first on my list. This book has a lot of symbolism in it and I think would be a good guided reading book for some of my top readers. I want to make sure students understand everything the author is conveying. I'm working on developing some student guides so check back!
------------------------------------------------------------------------------------------------------
Heaven is For Real
By: Todd Burpo
-My step brother died this past December at the age of 19. He was an amazing young man and we have all struggled with his death. When I saw this on the Barnes and Noble shelf I had to grab it up although I am not one to pay full price for books. It is the true account of a 4 year old boy who "dies for a short time" and comes back sharing details about heaven. We have faith but this provides a pure and childlike account of Jesus and heaven. How reassuring that my stepbrother, John, is in a place like this. I definitely recommend this read.
The Happiness Project
By: Gretchen Rubin
-Great read. Check out my previous
post
with what I was able to bring away from this book.
A Friend Like Henry: The Remarkable True Story of an Autistic Boy and the Dog that Unlocked His World
By: Nuala Gardner
-I enjoy reading memoirs and books about children and adults on the AU spectrum. While they are often very powerful stories, they also help my teaching as the past three years I have had students with autism or asperger's. A coworker passed this book along to me as a book she knew I would enjoy reading and I definitely did. This book was written by a mother who had a son with autism. She couldn't break into his world but when they got Henry...it all began to change as Dale began to learn about the world through his golden retriever - Henry.
Belle Weather: Mostly Sunny with a Chance of Scattered Hissy Fits
By: Celia Rivenbark
-OK...I'll be honest....I didn't exactly
read
this book but listened to it on audiobook. With my summer trips, I had a long stretch of driving by myself so I decided to try out the mp3 audiobooks that you can rent from the library. There wasn't a very extensive selection available immediately as they still have to be checked out like regular books from the library and there were wait lists of 10-14 for most of the books I would have preferred (
Help
or
Room
).
Belle Weather
was read by the author who is actually from NC as well so I enjoyed it. She has quite a since of humor and enjoys pointing out the finer qualities of southern life :) While it kept me entertained and awake while driving, it is not on my top list.
One Thousand White Women: The Journals of May Dodd
By: Jim Fergus
-This takes a historical event and adds a "what if" twist. May Dodd along with other white women become part of the government's "Brides of Indians" program. They are taken across the country to the west to live with the savages with the intention of helping assimilate the Indians into the white culture. This was a really great book that kept me reading on the beach, by the pool, and late at night.